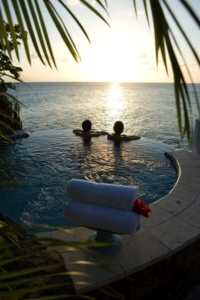 There are a lot of things that are different about relationships and weddings today than when our parents were dating and getting married. For starters, many couples choose to live together and build their home before they say, "I do." By the time they get to the aisle, they have a home full of dishes, furniture, linens, and appliances.  The last thing they want or need is a traditional wedding registry full of dishes, furniture, linens, and appliances. If you are one of these couples, and you are interested in having a registry but want to do something different, here are some suggestions for non-traditional registries that will help you avoid all of those towels and gravy boats.
The Honeymoon Registry
This type of registry has become more and more popular. They are an easy way to encourage your friends and family to help you with the cost of your honeymoon, without directly asking for cash. Websites like TravelersJoy.com or Honeyfund.com have options for setting up a honeymoon registry. You can have a general honeymoon fund that friends and family can contribute to, helping you pay for flights and hotels. Another option on these sites is to ask for help funding the "extras" for your honeymoon, like spa services, tours, and activities, or equipment rentals like scuba gear or bicycles. It may not be good manners to ask for cash, so a honeymoon registry is a great way to get financial help for something you want, without the awkwardness of asking for money.
Home Improvement Registry
If you are a homeowner, you know how much work it takes to keep up your home. If you aren't interested in a traditional registry and don't want to fund your honeymoon, you might want to consider a home improvement registry. Stores like Lowes and Home Depot are getting on the wedding registry bandwagon, and many stores now offer a registry where you can ask for anything from a new drill to lumber for an addition or a new deck.
A Gift Card Registry
Maybe you do need some new towels, or want to get some new appliances, but you don't want to leave to chance that you'll get three or four of the same thing.  A gift card registry may be just what you need. The same websites that can help you fund your honeymoon can also help you set up a gift card registry. The idea with these registries is that you can select gift cards from stores where you like to shop, select how many cards of varying denominations you want, and your friends and family purchase the selected gift cards. Again, this is another way to ask for cash, without that strange feeling, to help you get the items you need.
Charitable Donations
If you are that couple that has it all, or you would rather spread some good with your wedding, a registry that allows your friends and family to make charitable donations in your name, might be right for you.  This option can be done a couple of ways. Firstly, you can contact a charity that you want to work with and set up a fund with them directly. However, if you don't know what charity you want to donate to, you want to donate to a couple of charities, or you aren't sure how to get the ball rolling, you may want to try sokindregistry.org. This site will help you coordinate a variety of unique registries, including charitable donations.
Our parents only had one option for their gift registries. Today, there are many traditional and non-traditional options that allow couples to get just want they want and need most. Before you jump into one of these new registries, make sure you do your research, and select the option that is best for you and will be accessible to your friends and family.