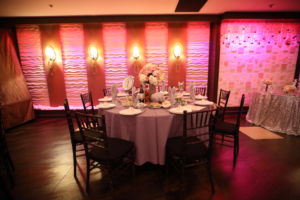 On the evening before their wedding, most couples are given a rehearsal dinner to kick off the celebrations, give guests and family members some time to chit chat, and to signal the end of stressing about wedding planning and the time to just enjoy everything. So although it won't compare to the actual wedding day, a rehearsal dinner can still be beautiful, delicious, and wow-worthy. Whether you're planning your own rehearsal dinner or you're a friend or family member playing host, here are a few steps and tips to pull off a wonderful rehearsal dinner.
Compile the Guest List
Guests being invited to the dinner can be sent information regarding it along with the save-the-dates or on its own shortly after sending the save-the-dates. Giving your guests plenty of time to prepare their travel plans and sort out any accommodate needed will ensure everyone can make it. The people who you should invite include the bridal party and their guests, your immediate family, and if you have the room and budget, any close friends and non-immediate family members. It is also traditional to invite the officiant of the ceremony to the dinner unless they aren't close to either family.
Schedule Dinner Early
Brides need plenty of time to wind down to get plenty of beauty sleep before their big day, so it's best to plan the rehearsal dinner before normal dinner time, at around 5pm. This will give everyone plenty of time to enjoy some drinks and hors d'oeuvres as the sun starts to set, with dinner following behind. By 9pm, everyone will have full bellies and will be ready to call it a night.
Choose a Theme
If you're not the one planning your rehearsal dinner, you may want to lend a hand to the host and offer your ideas for the theme of the dinner. Don't think costume party when are considering the theme; it is more of the style, feel, and formality you want to provide and that matches the style and tone of your wedding. Choose an overall level of elegance and any other details you would love to see, like certain colors and whether you want to promote local fare or not.
Offer Transportation
As a good host, it's your job to make sure guests are taken care of and not inconvenienced to attend an event. Consider making some family members or bridal party members as designated chauffeurs to transport the honorary guests to the dinner and to offer guests a ride from their hotel or other meet-up location. Make this detail known on the invitation that you'll be providing transportation to the dinner to ensure everyone arrives on time and doesn't go ahead and rent a car or taxi.
Have Fun with the Attire
If you're planning the rehearsal dinner around a special theme like Mexican fiesta, or campfire barbecue, then feel free to instruct guests to don their appropriate attire, like fun festive prints, or outdoor flannel. This is the chance for the bride to let loose and play dress up in a more fun, playful way than her amazing gown the following day. And guests will have a blast with the fun theme.
Make a Playlist
The wedding isn't the only day where good music is a must. Create a playlist for the dinner to set the mood or to encourage dancing if you plan to offer that at the dinner. Or work with the venue that is hosting the rehearsal dinner to see what their options are.
Have a Guestbook
The guestbook is a traditional element to have at weddings but with so many lovely details to see, things to taste, and music to enjoy, your guests may get distracted and forget to sign in. The rehearsal dinner is a great time to capture the names of the guests who are attending the big day when everyone will be less distracted and more willing to take the time to pen their names and jot down a short and sweet piece of marriage advice.
The rehearsal dinner doesn't just have to be any dinner. It can be special and unique all on its own and offer guests a sneak peek at the festivities to come. If you're looking for a lovely and cozy venue to host the rehearsal dinner, consider Olivia Restaurant. With delectable catering options and a variety of professional entertainment to choose from, the rehearsal dinner will surely be a memorable one.