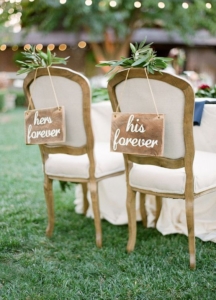 When all the wedding planning has come to an end and you've just celebrated one of the best days of your life, you may be thinking, what's next? And then remember, oh yeah, you get a new last name along with all of your new gifts! But only if you want to. Many brides today choose to break tradition and keep their last name, while many are excited about switching it, and some are somewhat in the middle. When deciding on what you will go by after you get married, you need to ask yourself how the idea of changing names makes you feel, why you want to change your name, and if you're doing it for yourself. Once you've got these questions answered for yourself, review the options you have for adjusting your name to your new marital status.
Go by Both Last Names for the Different Parts of Your Life
Many brides choose to change their last name legally for tax and other legality purposes and ask to continue to be called by their maiden name at work if they've built a business and clientele based on their original full name. By going by both names, you can keep both of these sides of yourself, honoring your new life and partner, without feeling like you're losing yourself. If you feel it is important to keep some level of independence in your life post-wedding, then this could be the best option for you. But be sure to discuss this with your partner and ask about their feelings.
Hyphenate Them to Create One
If you like the idea of keeping both last names but you also don't want them to be separate like the idea suggested above, hyphenating your last names is a common occurrence in today's society. Most brides have their husband's last name added onto the end of their maiden name with a hyphen in between. Or, a South American tradition that you can adopt is to simply add your hubby's last name to yours without the hyphen. Write all these options down on paper to get an idea of what feels right.
Create a Brand New Last Name Together
If you don't like the idea of taking your husband's last name or the idea of hyphenating, then it is possible to create a whole new last name that is meaningful to the both of you. Not every groom will be willing to let go of his last name, especially if he values tradition or is the only guy in his family. But the process of doing so with a willing groom can be a very special ritual that you create together as a symbol of your new life and the joining of yourselves into one.
Ditch Your Last Name Altogether
If you aren't necessarily attached to your last name, then it is perfectly okay to drop it altogether and adopt your husband's last name as your own, one and only. For many brides, this process represents the shedding of old and bringing on a new and exciting chapter. And it is a special experience.
Take Your Time
You have options when it comes to deciding your name after getting married, but it is important to remember that you don't have to decide immediately. Especially if you feel overwhelmed by the choices, and by pressure from anyone else for that matter. Your marriage will be perfectly legal if you don't change your last name at all, and you can always change your mind and take your husband's last name even years down the road when you feel comfortable.
When all is said and done, it is most important to understand that what you decide for your full name post-wedding should be based on what feels best to you, not anyone else, and to make sure that you're either changing it or not changing it for the right reasons.