Every bride has a certain vision in her head for her wedding. She knows every detail and wants everything to be perfect. But it is a little different when you actually start planning and figuring out the logistics. You may not be able to customize every single detail of your wedding and will need to decide on what areas mean the most to you.
Prioritize Your Must-Haves
As we said, it's easy to get caught up in the whirlwind of the non-stop ideas and pictures on Pinterest of customized décor, unique items, and monogrammed everything. But that may not be realistic for you, and it's a good idea not to go too over board with customizing every detail. Because monograms can look cheesy if they're used every where. Write a list of all of the special details you've just got to see so you can prioritize your budget and organize your planning timeline.
Areas to Splurge:
Napkins
Adding festive napkins can add just enough interest and contrast of color and pattern to your tables. They won't cost as much to rent or buy as unique tablecloths and they will definitely make a difference and will be the perfect touch of custom detail on your tables.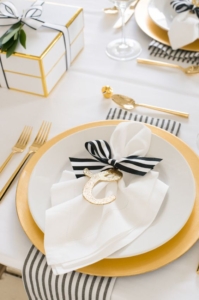 Custom Invitations
If you're interested in creating a customized wedding that is far from every other event, hiring a stationary design to create custom invitations is a must. There is just something so special about receiving a special invitation in the mail on thick, card stock with custom calligraphy lettering on the envelope. Your invitations will be setting the tone for your wedding and are giving guests a sneak peek of what to expect.
The Ceremony Backdrop
Work with the location you'll be getting married in to create a stunning backdrop for your ceremony. If you're getting married in an indoor venue and you do nothing to the space, while it may be beautiful on its own, it won't be set apart from all of the other weddings that have taken place there. So work with a florist to come up with some amazing ways to wow guests as they enter the ceremony space and provide a lovely background for when you're standing at the alter with your fiancé.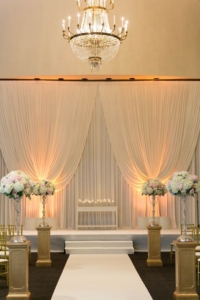 Getaway Car
How many times in your life do you get to drive a luxury or really cool vintage car? Not too often? So make the most of your dramatic send-off by splurging on renting an awesome car to whisk you and your betrothed away. Guests won't soon forget this exit and you'll be so glad you did something special with this moment and treated yourself because of how special you will feel. After all, we only get to feel like royalty once in our lives. Have fun with it!
Areas to Save:
Seating for the Ceremony
The truth is, none of your guests will remember what they sat on for your ceremony. So don't worry about renting the fanciest chairs for this part of the wedding and don't even worry too much about splurging on decor pieces like hundreds of flowers to tie onto the chairs. If you have flowers elsewhere in your ceremony (like the amazing back drop) that'll be enough to make an impact. Save here and splurge on nicer chairs for the reception.
The Save-the-Dates
The invitation is the most important thing you'll send to guests. So don't take the save-the-dates so seriously and feel free to save here and choose a pre-designed card on a site like Wedding Paper Divas. They have so many options to choose from for all kinds of brides and wedding styles. You can choose a style similar to your desired invite, incorporate pictures from your engagement shoot, and can further save money by going with a post card option that eliminates the need for an envelope.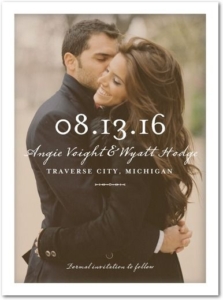 There are certain areas of your wedding that you simply don't need to customize or spend the big bucks on. Guests won't notice every single little detail about your wedding, and you can create a totally unique wedding that speaks to your personality by choosing to splurge wisely.