Weddings are meant to be unique to the special couple of the day. If you're looking to mix up your reception décor and step away from the typical touches, you might want to consider choosing non-floral centerpieces. If you're planning a specific theme for your wedding, you'll want to carry it through every detail. And your centerpieces are one of the best ways to do so. Here are a few great alternatives to floral centerpieces you might want to consider for a uniquely beautiful wedding.
Tree Stumps with Garden Touches
Rustic weddings are perfect for non-floral centerpieces. And although flowers are typically tied to spring, weddings that take place in the spring don't have to use flowers at every chance. They can also look lovely and appropriate with rustic, natural accessories and centerpieces. Consider using tree stumps, moss, and garden watering cans as centerpieces for sweet and earthy touches.
Vintage Books
Worn, slightly torn antique books are very romantic in their own way. They represent a nostalgic time long ago and are perfect for wedding centerpieces if you choose classic love stories and love poems. You can stack a few together on the tables and place other vintage elements or candles on top.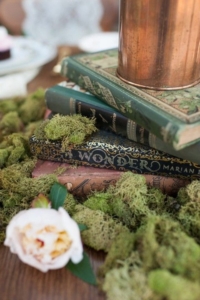 Succulents and Edibles
Although these are plants, they aren't technically flowers and will provide a unique focal point to your wedding tables. Succulents like adorable "hens and chicks" are growing in popularity, but making an appearance are also edibles like kale, rose-like cabbage, and culinary herbs. They provide some refreshing greenery, and can offer some lovely smells to your wedding. Plant the succulents and edibles in wooden boxes, terra cotta pots, mason jars, or terrariums.
Lanterns
Metal lanterns are elegant and are very romantic when lit in the evening. Your tables will be awash in a glow, and you'll get to impress guests with a less-than-typical centerpiece. Lanterns go well with almost all wedding styles, and can be made both modern and rustic depending on your taste.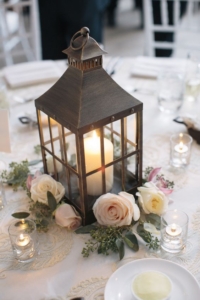 Birdcages
A garden wedding with a rustic feel will look magical with large, colorful birdcages as the centerpieces. They are simple yet eye-catching and can be filled with candles or just a few blooms to create a romantic, intimate feel.
Teacups
If you are planning a soft, ethereal wedding that is totally romantic, you can't get much more shabby chic than delicate teacups. They are also whimsical and eclectic and your guests will swoon over your adorable centerpieces. Start looking through flea markets and garage sales for vintage china, or, ask your family members if they have any they would be willing to loan you for the wedding. Stack the cups on pretty saucers and decorate them with candles, pearls, and a few roses or rose petals.
Seashells
Bring the beach to your coastal wedding reception by filling clear glass vases with sand and shells. You can place a tall taper candle in each, or put a small tea-light to add some romantic ambiance. Around the vases, arrange shells, pearls, and maybe a couple starfish to bring the romance of the sea right to your reception.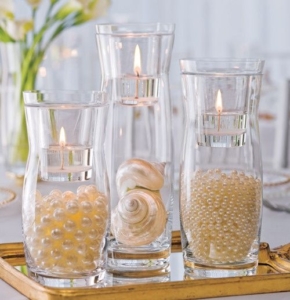 Wine Bottles
Wine bottles offer a clean-lined contemporary look to your wedding reception that can also double as the table numbers. Gather some empty wine bottles that complement your color scheme, like green, light blue, or clear, and attach large numbers for the guests to easily spot their tables. These will be a cost-effective alternative to flowers, especially if you use wine bottles you have saved over time. You could fill the bottles with sand or water to weigh them down, or use real bottles borrowed from the winery you're hosting the reception at.
Ornaments
Many winter weddings go with red roses, poinsettias, and greenery and cranberries for their centerpieces. But colorful ornaments also make lovely and totally festive décor and your guests will feel the warmth and cheer from the holiday season.
There are so many lovely and creative things you can do for the centerpieces at your wedding, and they don't have to include flowers to be romantic. Choose something that is unique and represents how you would like your guests to feel on your special day.