Sticking to a budget for your wedding day? No problem! There are so many great ideas and ways to save that don't require you to sacrifice the ambience or experience you're dreaming about. From small DIY projects, to weighing your options with different vendors, there are options to meet all budgets and styles.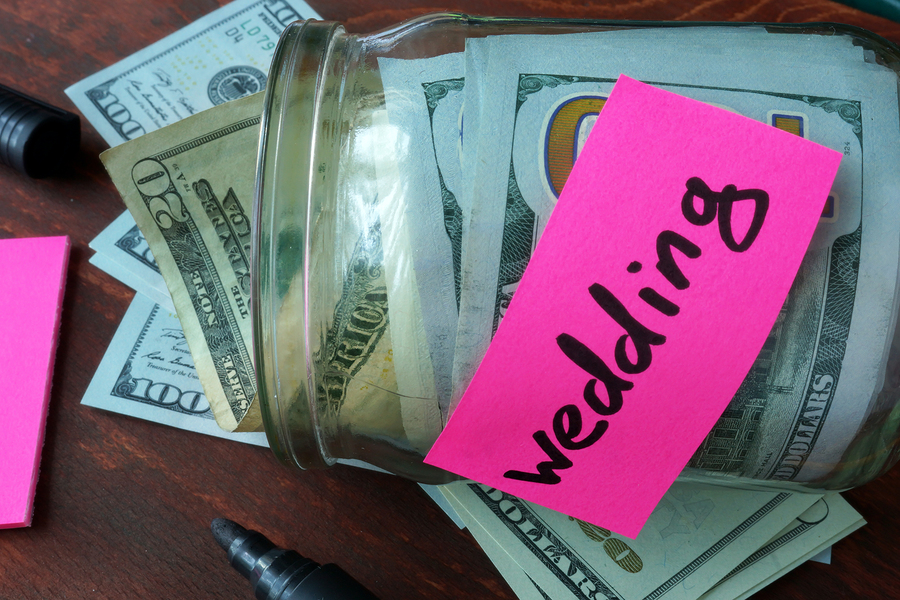 Here are a few tips to help get you started planning your frugal yet lovely wedding:
Invite Only Close Friends and Family
The number of guests you have at your wedding is quite possibly the primary place where your money goes. You have to send them an invitation, seat them, feed them dinner, feed them cake, and ensure the tent and dance floor you rent is large enough to accommodate everyone. As you can see, these costs add up and by really limiting the people you invite, you will reduce the costs of practically every component of your wedding. And there are actually quite a few benefits to having a small wedding and a sense of intimacy is number one. You will enjoy the day so much more if you are surrounded by your closest family and friends.
Host the Ceremony or Reception at Home
If you have the space, having your wedding take place at home or a family or friend's place will save you big bucks on not having to rent a venue. And it also provides for an incredibly special and personalized wedding. Something to keep in mind is that tented wedding receptions can often cost just as much, if not more, than receptions at a separate venue since everything needs to be brought to the location. Consider having the ceremony at home, or in a park, and if you don't have enough room inside your home, having the reception at a great restaurant.
Take Care of the Food Yourself
Professional catering can really hike up your wedding budget, and if you have a small enough guest list, you and your family may be able to cook and prepare the food yourself. However, if having to do all this work isn't an option for you, look for a family-owned restaurant in your area as they are usually more willing to work with you and your budget. And if you have a certain catering company in mind, just make sure to select simple dishes for the menu like pastas or barbeque foods, and have it presented buffet style.
Choose Simple, Seasonal Flower Arrangements
Believe it or not, live flowers from a florist can be incredibly expensive. Especially if you have certain flowers in mind that are out of season and need to be shipped to you. The key is to keep it simple and choose in-season flowers. For additional cost savings, choose native flowers in your area. This just-picked wild flower look is actually quite trendy right now and people pay big bucks for it! You can also keep it simple by having small, short centerpieces, having your bridesmaids carry a single flower down the aisle, and having a small bridal bouquet or carrying a single flower yourself. This minimalistic approach is also currently trending so no one will ever think you chose a single flower for budget reasons. If you're hiring a florist, ask him/her if you can come with a group of friends and put the centerpieces together yourselves.
Design Your Invitations
It is very possible to create your own wedding invitations that are simple and elegant, without needing much artistic talent. There are many templates online you can follow as well as inexpensive invitation kits you can buy at stores like Staples and Michaels where you can type them and print them out at home.
Borrow Stereo Equipment
First of all, it is always cheaper to hire a DJ than a band, and you can save additional money by simply borrowing stereo equipment from someone you know or using your own for the music. Place the speakers on the dance floor and hook up your iPod or iPhone with the playlist you already curated. It's that easy and you'll have all the songs you and your friends want to dance to all night long.
Decide No Alcohol or Declare BYOB
Having a full stocked bar can really drive up the total price of your wedding. If you and your spouse aren't big drinkers, you may be okay with not having any alcohol at all, or at least, only having a champagne toast. If you're having your reception at home, you can also have your guests bring their own beer and wine to save you money while ensuring everyone has a great time. But if you really want to treat your guests, find a local wholesale beverage company and buy kegs of beer and large cases of wine, and skip the hard liquor.
Hire an Amateur Photographer
For many brides and grooms, it simply isn't an option to forgo the pictures of their wedding day. They want their venue, bridal party, guests, and intimate moments of themselves captured. If you don't have a friend who practices photography to capture your shots, look for a photographer who is still in school. They will have the basic knowledge of how to capture lovely shots, as well as editing skills, and most of them charge a fraction of the price of professional photographers because their main goal is to fill their portfolio.
Make Your Own Decorations
You can find a ton of pretty decorations at Hobby Lobby and Michaels that are on sale throughout the year. You can also look at these stores for raw materials to make your own decorations from scratch. Oftentimes, many brides put their wedding décor on craigslist when they don't need it anymore and you can scour the pages every day to find some lovely gently used items that fit perfectly with your vision.
Be a Savvy Shopper
To save money on bridesmaid dresses, head to the store when there is a sale going on and see if your friends can buy something off the rack. If they need alterations, they can contact a seamstress to handle any changes needed. For the bride's dress, many major retail stores have sales throughout the year when they need to clear out their stock to make way for new arrivals. Shop during these sales and be prepared to buy something "as is" to save money. For the groomsmen, it is most efficient to rent a tux rather than buy one. And many places offer discounts for renting more than one at the same time, so rally up the boys, and send them off for their tux fittings.
Every bride deserves the wedding of their dreams and it shouldn't have to break the bank to get it. Hopefully this list of cost-saving ideas has inspired you to find ways to save money while still getting the look and feel you want.
For a budget friendly venue that is perfect for small weddings, check out Olivia Restaurant. You can also read our blog about the benefits of having a small wedding.